Zombies Ate My Neighbors (1993)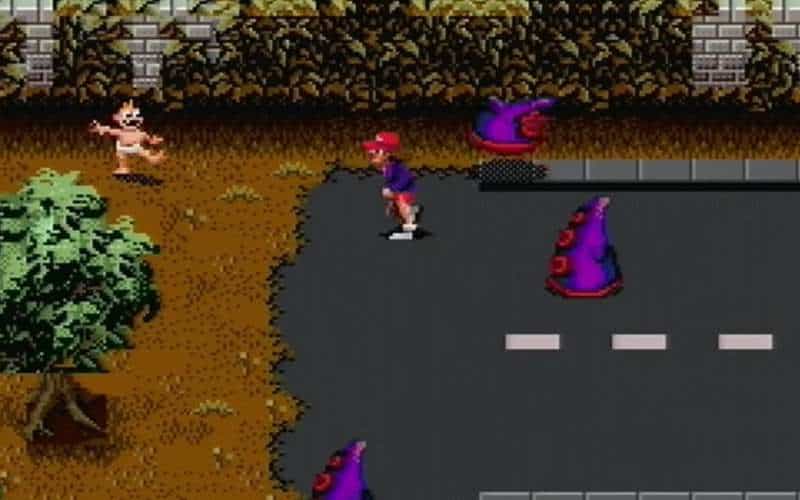 If you're looking for something different this Halloween then Zombies Ate My Neighbors could be the one for you.
Take control of Zeke and Julie while they try to save their neighbors from a whole host of horror nasties.
As well as the Zombies you'll encounter Squid People, Werewolves, Vampires, Pod People, Blobs, UFOs and Chainsaw Psychopaths.
This game really does have everything you could want from a horror game and it's genuinely challenging as well.
As our review also mentions it has a great atmospheric horror soundtrack too which really helps to get you in the mood.
Friday the 13th The Game (2017)
Who hasn't played a horror game and wondered what it would be like to play the monster?
Well, in Friday the 13th you actually get to play as the legendary Jason Voorhees as you hack and slash your way through teenage campers at Camp Crystal Lake.
Friday the 13th also has a great multiplayer mode where one person plays as Jason and the others are Camp Councillors trying to kill him.
The game also features loads of locations from the movie franchise for a perfect nostalgia hit.
Castlevania (1986)
Another classic game for Halloween has to be Castlevania.
You take control of Simon Belfort as you hunt down Count Dracula in his Transylvanian castle and encounter many ghoulish horrors along the way.
This is a classic side-scrolling NES game but it really is set apart by its fantastic level design and soundtrack.
Castlevania has plenty of sequels and alternate versions but we highly recommend you go back to the NES version to relive the classic.
It's also worth noting that Castlevania will soon be getting a re-release courtesy of the PC Engine Mini.