Back in the 90's most people had access to four channels of TV.
It was a simpler time and one filled with great memories and because of the limited choice of channels everyone watched the same shows on TV and because of this it generated lots of discussions in school the day after the shows were on.
Retroheadz takes a look back at some of the comedy shows that you might have forgotten about but at the time were must watch series on CBBC or CITV.
Get ready for some early 90's nostalgia!
Spatz
Spatz was a sit-com set in a fictional fast food franchise called, erm…Spatz.
The show centred on the staff who worked in the UK's first branch of the fast food restaurant in Cricklewood.
Along with their romances and larking about and were ruled with an iron fist by Karen Hansson, the chains European Co-Ordinator who was always clutching the staff handbook and were managed by TJ who was always laughing and pretty chilled.
The staff had to get customers in and for many of us it was the first time that any of us had seen the behind the scenes going on's of a fast food restaurant which for many of us was a rare treat to visit back then.
Spatz ran for three seasons from 1990 to 1992 and had 33 episodes and had quite a few guest stars including Gary Linekar and Rhys Ifans AKA Eyeball Paul!
It was funny and had the obligatory canned laughter and was great fun to watch.
Press Gang
Press Gang cleverly blended comedy with hard hitting drama and was hugely popular.
It centred on a bunch of school kids who were asked to produce the local papers Junior Gazette before and after school.
It ran for five series from 1989 until 1993 and it starred Julia Sawalha as the newspapers editor Lynda Day and Dexter Fletcher as Spike Thompson who was a bit of a delinquent wild child. He also went on to present GamesMaster for a season a couple of years later.
It was a great series that had end of season cliffhangers and in jokes for the loyal watchers.
Maid Marrion and Her Merry Men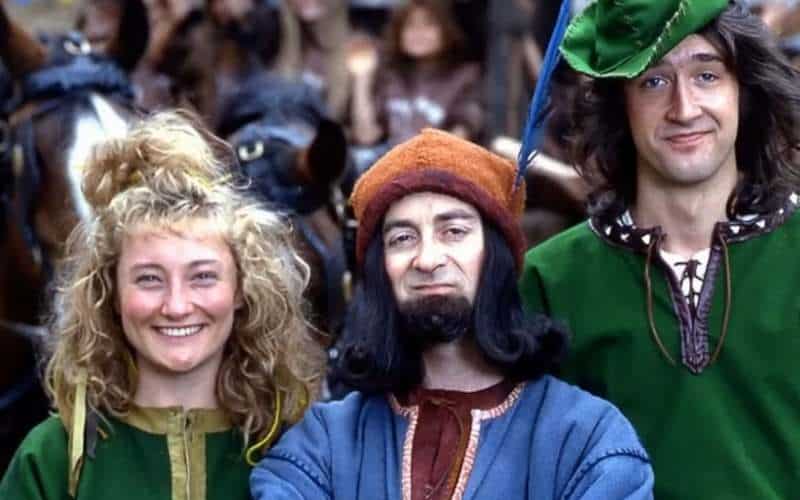 Now this was funny.
Maid Marrion and Her Merry Men had laughs aplenty and gave a different insight into Robin Hood and his merry men as in the series it turns out she's the brains of the operation as they were all a bit dim.
It also had Tony Robinson as the Sheriff of Nottingham who was brilliant as always and had tons of jokes, slapstick comedy and even musical numbers featured in each episode which were rapped by Barrington who was played by Danny John Jules AKA Cat from Red Dwarf.
It was so funny even your parents would watch it as it was basically Blackadder for kids and had a number of stars from that show featured in Maid Marion and Her Merry Men too.
Mike And Angelo
Mike and Angelo centred on an American kid living in the London neighbourhood called Cricklewood (yes the same as Spatz!).
He ends up having an Alien called Angelo living with him after he comes through a portal in his wardrobe.
They do crazy things in the house in every episode including summoning historical figures and inventing bonkers contraptions and was thoroughly entertaining back in the day.
The 120 episodes ran from 1989 all the way through to 2000 across twelve seasons which was a very long run indeed.
Round The Bend
Round The Bend was a satirical magazine style show that packed loads of segments and laugh out loud moments into each 20 minute episode.
This is the show that gave us music videos from Elton The John and Kylie Manure, news from John Potato and cartoon skits including Wooley The Wonder Sheep (Baaaa!), Teenage Mutant Ninja Toilets, Wee-Man and the Masters of the Looniverse and was hosted in the sewer by Doc Croc, a rude and crass Crocodile and his three assistant rats.
This was comedy gold for kids back and we suppose it was the kids equivalent of Spitting Image.
Round The Bend ran from 1989 to 1991 with 18 episodes across three series and we wish there were more of them as they are really funny.
Byker Grove
Another BBC drama series that also had a fair bit of humour mixed in.
Byker Grove was set in Newcastle and was a youth centre for latch key kids in the main and had the varied mix of romances, friendships, tragedies and drama throughout and made household names out of Ant and Dec as they played PJ and Duncan (Let's get ready to rumble!)
The series started in 1989 and ran for 18 series (344 episodes) until 2006. That's an epic run indeed but not as long as…
Grange Hill
Grange Hill was broadcast from the late 70's until 2008 and was an institution for kids everywhere to be a fly on the wall in another school in another town although it generally had far more drama than what we all experienced.
Just like Press Gang and Byker Grove it mixed light comedy moments with gritty and dramatic contemporary story lines and was always on last on CBBC.
You knew the kids were in trouble if they had to go and see Mrs Mcklusky and everyone remembers Mr Bronson the strict deputy head who left the show in 1989 still was remembered well into the 90's because everyone had a teacher like him.
Which Comedy or Drama Shows Did You Watch?
These are the ones we remember the most but what about you? Let us know the shows you loved watching in the early 90's and share your memories in the comments below.