Grand Theft Auto is a Staple game franchise that spans over multiple consoles. Grand Theft Auto Vice City was released in October 2002 and developed by Rockstar North and published by Rockstar Games.
As you may know the game is set in a fictional adaptation of Miami called 'Vice City' in the 1980's and is heavily inspired and influenced by the film and television of that era, 'Miami Vice' and 'Scarface' to name but two.
Vice City focuses on the drug lords and the Mafia bosses of 'Vice City' (Miami) and also adopts an amazing 80's music soundtrack that is adored. Vice City became the best-selling game of 2002 with 20 million copies being sold and it has been regarded as one of the most significant games of this generation, winning multiple awards
You play as Tommi Vercetti (Ray Liotta) after his release from prison after 15 years and is sent to Vice City by his Former Boss 'Sonny Forelli' to perform a drug deal, but when it goes terribly wrong they loose both the money and the drugs. As the story progresses you watch as your character slowly rise to power and become one of the top dogs.
Graphically the game still holds up reasonably well today, with its Miami Sunsets and the bright abstract city. The animations are also relatively impressive to this day, with fluid movement. It bright, bold and also includes the pastel hues that were heavily featured in Miami Vice.
The cars are great fun too, with pastiches of 80's iconic cars available for you to do missions or just drive around including the dream cars of the day such as the Lamborghini Countach and the Ferrari Testarossa getting included.
Sound wise, as I mentioned earlier the radio stations consist of many incredible tracks from the 80's, anything from Judas Priest and Ozzy Osbourn to Michel Jackson and Blondie, this game had all the tracks to immerse you in the great atmosphere.
The protagonist that you play as is voiced by Ray Liotta, a perfect choice by Rockstar, along with other stars like Tom Sizemore. So as you would expect the voice acting does not really leave anything to be desired, it's great and adds to the already great story.
Gameplay wise they stuck quite closely to the formula they used for Grand Theft Auto III And that's a good thing, it worked, and they only improved and added in this game. Most the mechanics are the same, including movement, shooting and challenges that fans would be used to.
The story is often referred to as the best Grand Theft Auto story ever told due to the great atmosphere, acting and the fact that most of the events are inspired by real life occurrences in the 80's.
I don't think you could get more of a classic PlayStation 2 game, this game defined the generation and many people still love it and regard it as one of the best games ever made. If you haven't played it in a while you really should give it another go.
Here's one more thing to bear in mind about the game as well. We are as far away from Vice City's Release as Vice City was from the actual 80's. Just think about that for a moment…That's mental!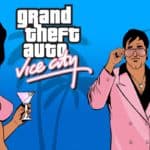 Grand Theft Auto: Vice City (2002) – PlayStation 2 Review
Is it worth playing again?
Vice City is seriously good fun still, even after all these years . You get a double dose of nostalgia with this game both from the 80's and the PS2 era.
Good Bits
It's set in the 80's. A Retroheadz dream!
So many missions to do and all to an amazing soundtrack
Bad Bits
Don't fall in water, you'll be wasted!
You'll find it a bit limited if you've been playing GTA 5 recently