Throughout the 90's there was some pure TV gold. Amazing quiz shows, sketch shows, Saturday night TV and dramas but nothing comes close the plethora of British sitcoms that were available during the decade. 
These classic 90s British sitcoms had memorable characters aplenty with scenarios as far fetched as you could imagine.
These comedies ruled the roost with laughter at every turn and a smattering of emotion thrown in for good measure to balance things out.
Retroheadz take a look back at some of the best loved British sitcoms from a bygone era, an era where comedy was king and the British were at the forefront along with where you can watch them currently.
Father Ted
A comedic masterpiece set on the fictional Craggy Island sees Ted, Dougal, Jack and Mrs Doyle struggle their way through everyday life in a series of hilarious capers.
From Father Jack's constant stream of 'Fecks' to Dougal's unfathomable naivety when faced with the simplest of tasks drive Ted to the edge of insanity and back again, thank god (pardon the pun) for the constant cups of tea on offer from Mrs Doyle. 
Series highlights include a rather rambunctious father Stack, the Jungle loving priest and a Eurosong entry about a rather lovely horse.
Where can you watch Father Ted?
Father Ted is available on All 4.
Bottom
Richard Richard and Edward Elizabeth Hitler are the main protagonists in this series about two hapless, misogynistic males and their harebrained, sometimes misguided attempts at making money and trying their luck with unsuspecting ladies.
Add to that their love of a good old fight with whatever they can lay their hands on Richie and Eddie always end up on the bottom of the pile. 
Several live shows and a film spin-off were to follow after the success of the original series. 
Where can you watch Bottom?
Bottom is on Netflix in the UK right now. It's also available on Britbox if you have it.
Rab C. Nesbitt
Perennial unemployed, string vest sporting Glaswegian alcoholic Rab is a self professed street philosopher who get's tangled in a whole plethora of amusing affairs as he struggles his way through life.
Supported, well sometimes by his long suffering wife 'Mary Doll'  and two sons Gash and Burney, Mr Nesbitt always seems to find a way of making a dire situation into catastrophe.
Is Rab C. Nesbitt available anywhere?
Unfortunately not although you can buy individual episodes on Amazon Prime if you want to watch it.
Absolutely Fabulous
Take a heavy drinking, drug using PR agent, then add an even heavier drinking, drug using magazine editor and you have Ab Fab.
Edina and Patsy, with the help of Eddie's somewhat normal daughter Saffron go from one madcap plight to another in their quest to stay young and relevant in their crazy celeb laden world. 
Where can you watch Absolutely Fabulous?
You can see episodes of Absolutely Fabulous on Britbox and Netflix right now.
Red Dwarf
Set three million years from Earth this sci-fi comedy follows the crew of a mining ship named Red Dwarf and it's forlorn crew as they make their way through a series of outlandish escapades inside deep space.
The last living human, a hologram, an evolved cat, a computer and an android make up the ships gang as they go from one high jinks situation to the next. 
Where can you watch Red Dwarf?
Red Dwarf up to series eight is on Netflix and its also broadcast on Dave frequently too.
I'm Alan Partridge
Dan, Dan, Dan, DAN, DAN, DAN…! You just did that in the voice didn't you?
From driving to Dundee in his bare feet to taking a date to a cracking owl sanctuary,  Alan Partridge is one of British comedies all time great characters.
The ill-fated radio DJ famed for his 'big plate' and tactless dragooning of his staunchly loyal PA Lynn, travels into various exploits head first with some disastrous consequences along the way. 
Where can you watch I'm Alan Partridge?
If you have Netflix then you can fill your boots on some Radio Norwich goodness from Alan Partridge and there are also regular broadcasts on Gold of classic episodes too.
2Point4 Children
Seemingly normal working class family the Porter's advance between various troublesome scenarios as they plod their way along a rather disaster ridden existence.
Parents Bill and Ben, assisted by David and Jenny the couple's teenage children survive across a myriad of unusual and comical scenarios in this classic series. 
Can you watch 2Point4 Children anywhere?
It's not on any streaming service but we did a quick search online and there's plenty of clips on places like YouTube.
Mr Bean
Slapstick comedy at it's very best. Mr Bean is loved the world over.
With two hit films spawned from this Ben Elton and Rowan Atkinson creation it really has stood the test of time and continues to attract new fans and is globally known as one of the best British sit coms out there.
Mr Bean, played by Atkinson constantly makes incredibly horrendous decisions as he proceeds to complete various everyday scenarios, causing huge amounts of chaos every where he goes. 
Where can you watch Mr Bean?
Netflix has some classic episodes for you to watch and so does Amazon Prime.
The Brittas Empire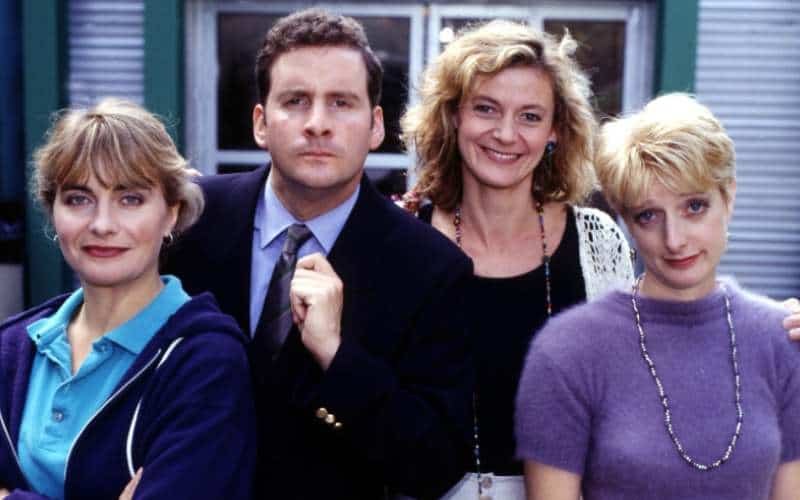 Set in a leisure centre, manager and chief ignoramus Gordon constantly upsets his staff and the public alike causing confusion and stress to all who cross his path.
Assisted aptly by Colin, an accident prone caretaker who boasts quite the repertoire of skin allergies these two wholly incompetent bungling fools make a mess of everything they touch. 
Can you watch The Brittas Empire anywhere?
Unfortunately not. It's off air on Gold in the UK and not on any streaming subscription service either for now.
However, just like 2Point4 Children there does seem to be some lots of clips and classic moments to check out.
One Foot In The Grave
Imagine creating a whole heap of problems yourself and then blaming everyone else… I give to you Victor Meldrew.
Whatever the scenario, the blame always lies elsewhere. An extremely grumpy old man, a well loved catchphrase and One Foot In The Grave is born.
Supported by his doting and patient wife Margaret, trouble is never far away. 
Where can you watch One Foot In The Grave?
There are occasional episodes broadcast on Gold in the UK and it's also available on Britbox.
Keeping up Appearances
Hyacinth, a social snob who is constantly trying to impress the upper class all the while hiding her lower class background and family.
This larger than life character will stop at nothing on her quest to be accepted into the higher echelons of society, including constant harassment of Richard, Hyacinths easy going husband.
It's pronounced 'Bouquet' is response to anyone who dare call her Mrs Bucket. 
Can you watch Keeping Up Appearances anywhere?
The only place you can currently watch Keeping Up Appearances is on Britbox.
 What were your favourites and who were your favourite characters from this golden age for British sitcoms?